Description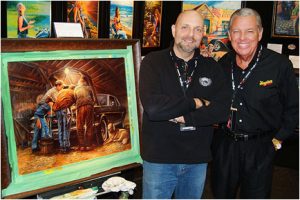 Little Bobby hears voices and the sound of tinkering coming from inside the old garage. He sneaks in to find his Dad, Grandpa, and Great Grandfather working on classic Ford Mustang, handed down from generation to generation. The years have taken their toll on the patriarch and he now walks with a cane, but that doesn't stop him from doing what he loves, and that is hanging with his boys. Hoping one day the classic car will be his, Bobby stands atop a barrel, and joins his family as all four huddle over the engine. He wears his cap just like his dad, and his grease rag is carefully tucked into his back pocket just like Grandpa. Even the family dog gets in on the action.
Grandpa's Gift keeps building memories.
Motor Marc unveiled this special art print at the 40th Anniversary Barrett-Jackson Auction show in Scottsdale Arizona.