Description

LeMay – America's Car Museum (ACM) spotlights America's love affair with the automobile. Featuring a nine-acre campus – with a four-story museum as the centerpiece – ACM, situated atop Tacoma, Wash., 30 minutes south of Seattle and in the shadow of Mt. Rainier, will be one of the world's largest auto museums and attractions when it opens in June 2012.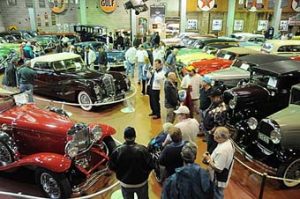 ACM is designed to preserve history and celebrate the world's automotive culture. The spacious facility will house up to 500 cars, trucks and motorcycles from private owners, corporations and the LeMay collection, which amassed a Guinness Book record of more than 3,500 vehicles in the mid-'90s.
"Everybody remembers their first car, family driving vacations, a sports car they fell in love with as a teenager," says ACM CEO David Madeira. "Personal experiences with cars are at the heart of the American experience, and we're going to showcase more than a century of automotive lifestyle and history as well as the future of transportation."
Motor Marc is very pleased to be working closely with Nancy on various projects. Starting with commissions of her favorite classic cars and other collectables. Be sure to view more of his up coming classic paintings.