Description
Painter of the Open Road Edition®
In honor of all our veterans
"Courageous Hearts are those that rise above life's challenges, demonstrating unwavering strength and steadfast commitment to their own inner truths."
Prepare to be captivated by the awe-inspiring display of power and valor within Motor Marc's work of art. I've meticulously crafted a fine art painting that pays homage to every aspect of the US Department of Defense.
From the adrenaline-pumping Army, Marine Corps, Navy, Air Force, Space Force, Coast Guard, to the awe-inspiring National Guard, each branch is brought to life through their remarkable vehicles and saluting military soldiers silhouettes in various inspiring uniforms standing proud next to a highly skilled military dog. The thunderous roar of the F/A Hornet and F/16 Falcon fighter jets as they slice through the sky, leaving trails of excitement in their wake. Witness the ground breaking missile launch for space, soaring towards the unknown, pushing the boundaries of exploration. Behind the wounded warriors, the Apache 64E helicopter stands tall, a symbol of resilience and unwavering determination. But the action doesn't stop there! On the open seas and air, the Coast Guard's unwavering vigilance, personified by a mighty aircraft carrier emerging triumphantly from the turbulent sunset seas. Amidst the blowing dust, a UH-60 Black Hawk helicopter fearlessly navigates through the chaos, its rotor blades cutting through the dusty air with a symphony of courage. And of course, the indomitable M1 Abram tank proudly carries the American flag, a powerful symbol of unity and strength. Finally, behold the US Army Humvee, skillfully adorned with the emblem of the First Infantry, while a drone hovers above it, signifying the triumphs that lie ahead. As a backdrop to this extraordinary display, the canvas comes alive with dramatic clouds and swirling smoke, creating a mesmerizing effect. And at the centre of it all, a captivating image of the Wounded Warrior and a honourable Purple Heart, representing the unwavering courageous and resilience of our heroes. ''I am thrilled to embark on this monumental project for the Wounded Warrior Project organization and a proud supporter." Together, let us bring this exhilarating powerful art to the homes of many veterans and WWP families.
This special painting decorates Motor Marc's tribute to the veteran heroes of the Armed Forces that allows us to have our freedom. A portion of the print sales will be donated to the WOUNDED WARRIOR PROJECT for military family in needs.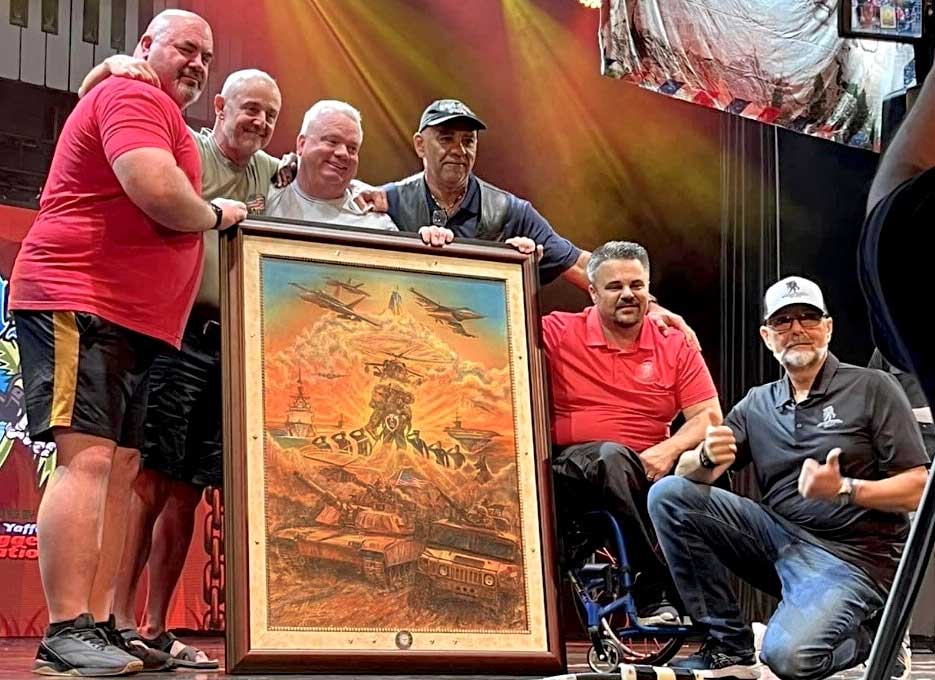 A Terrific Unveiling of "Courageous Hearts"