Description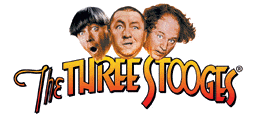 The Three Stooges® Officially licensed fine art
With horns blaring and sirens wailing, Larry, Moe and Curly take to the streets in a sidecar rig with the local coppers hot on their wheels. Just what has Curly been up to? Why is Shemp hunting them down? The zany madcap antics of The Three Stooges® are immortalized in this fun-filled work-of-art, depicting the comedy legends running from the long arm of law, yet again.
Hi-jinks ensue as The Boys lead the chase through the city streets, leaving mayhem and confusion in their wake in classic Stooges style.
As the only free-hand licensed artist to ever paint The Three Stooges, Motor Marc has captured the essence of wacky mischief and light-hearted hilarious fun with this colorful and expressive piece showing the Three, in a "Wrongway Getaway". With a 1930's vintage sidecar clattering and sputtering down the narrow cobblestone streets of New York City, and the Manhattan Bridge as a backdrop, you can almost propel yourself into the era, and hear the banter and exclamations from the three jesters as they lead-foot it out of town.
This undeniably unique piece from Motor Marc, a first in his new series of paintings. This is not a scene from a movie or photograph, this is a rare and imaginative collectable work-of-art for all die-hard Stooges fans.
The original painting is now available for sale.