Veterans Contest Open to Veterans Only
Immortalize Your Image on a New Commemorative Painting
We should never forget why we are able to maintain the freedom and the independence to live our lives and pursue happiness as we desire. Thank you to all the brave men and women who have served and sacrificed their lives.
We salute all of our Soldiers, Sailors, Airmen, Marines, and Coast Guardsmen defending our liberty and independence in all corners of the world and at home.
Motor Marc continues his tribute military art series honoring veterans with this once in a lifetime contest. If you are a veteran, past or present, or currently in the military, this is your opportunity to have your picture immortalized in this one of a kind masterpiece. Motor Marc will randomly select 20 veteran contestants, who he will incorporate in his new fine arts painting.
Grand Prize – Motor Marc will donate one highly collectable artist proof hand embellished frame print to one lucky winner.  Prize valued at $2,800.
Rough Sketch Now In Progress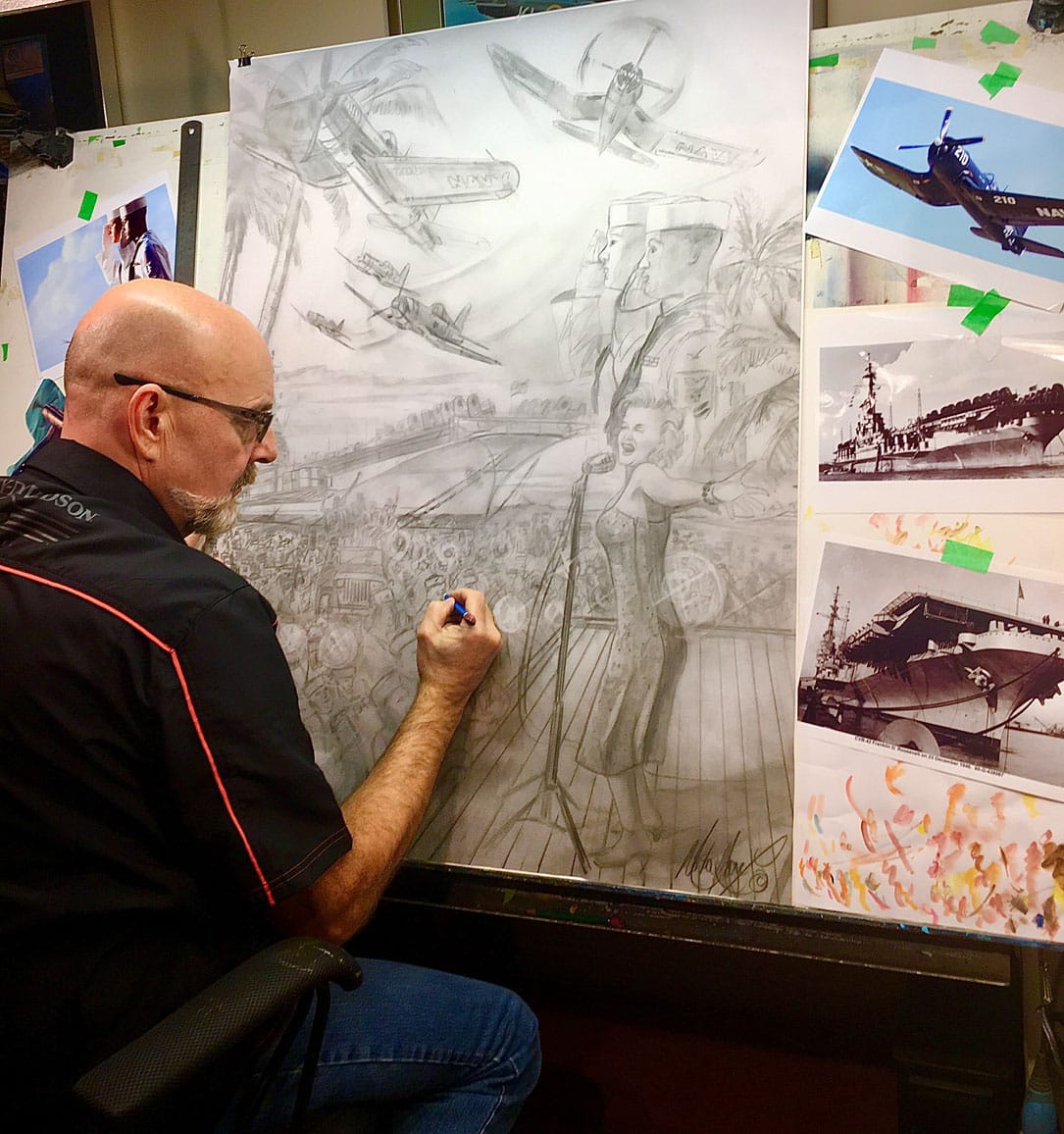 Contest Rules
1. Must be a Veteran, past family member or currently in the military and show proof of military ID or valid documentation.
2. Submit two clear photographs, front and profile if possible and information to veterans@motormarcart.com
3. Sign up as a Motor Marc Lacourciere VIP Member
4. Follow Motor Marc's progress on Facebook or Instagram accounts
5. Click the Like button, tag 2 friends, and share this post on your feed.
Deadlines and Winner Announcement
Submission deadlines will be November 25, 2021. 20 Luck Winners to be announced December 14, 2021.
The Grand Prize Winner will be announced January 01, 2022.
To all the Veterans and their families, I salute you and thank you for your service and sacrifice.
See All Motor Marc Military Artwork